MiTA MYANMAR EXHIBITIONS & CONFERENCES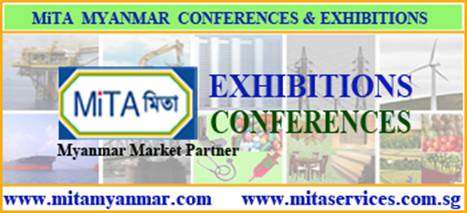 MiTA is organizing the following four series of Myanmar Investment and Myanmar Trade Promotion Exhibitions & Conferences in the coming months in Yangon; these events are planned to be organized annually.
 
PAYMENT
Payment Online via PayPal or Payment by TT Bank Transfer to OCBC Bank in Singapore
REGISTRATION ASSISTANCE & CONTACT ORGANIZER FOR
Email: mpi.expo@mitaservices.com.sg; Phone: +95 9 420 110 451, +95 9 795 626 772
Earlier events were kindly supported by many Embassies in Yangon and Myanmar Govt. Ministries & Departments, including President's Office, Ministry of Health, MIC, DICA, Ministry of Finance-Myanmar Custom Department, Ministry of Education, ECD/MOECAF, Ministry of Transport, Yangon Region Chief Minister Office, UMFCCI, CCI France – Myanmar, Australia Myanmar Chamber of Commerce (AMCC), IITAS, etc.
Tentative Exhibition Booths and Conference Hall Layout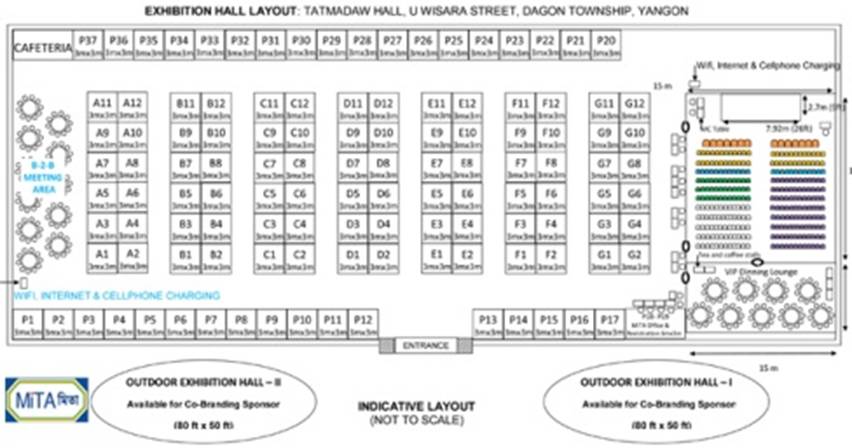 Download Brochure: http://mitamyanmar.com/download/brochure-exhibitions-conferences.pdf
REGISTRATION ASSISTANCE & CONTACT ORGANIZER FOR
Email: mpi.expo@mitaservices.com.sg; Phone: +95 9 420 110 666, +95 97923 21092
MYANMAR EXHIBITIONS & MYANMAR CONFERENCES
ORGANIZER: MiTA Services Pte. Ltd. (Singapore) & MiTA Myanmar @ ISBC
 
MiTA : Myanmar Market Partner
"Organizer MiTA (MiTA Services Pte Ltd, Singapore and MiTA Myanmar @ ISBC) provide one-stop consulting services to foreign investors for entry into Myanmar's emerging market and business match-making with local companies since 2009; more information on: https://mitaservices.com.sg" … Dr. Madhab Paul
Investment in Myanmar Properties and Promote Foreign Properties in Myanmar – Contact MiTA PROPERTY, a BUSINESS UNIT OF MiTA
Do you need INSURANCE in Myanmar? Email: insure@yangoninsuranceagency.com


MARKETING IN MYANMAR, TRADE PROMOTIONS IN MYANMAR: Exhibitions and Conferences: www.expo-mita.com
Terms of Use & Disclaimer : http://mitamyanmar.com/terms-of-use-disclaimer/